Youth Development Center
Boys who come to the Youth Development Center (YDC) are working to overcome serious emotional and behavioral problems along with other obstacles. YDC provides a home until they are ready to move to the next step in their plan for long-term success and stability.
Throughout treatment, boys receive the help they need to overcome barriers and feel empowered to make positive changes for their futures, including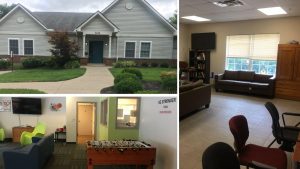 how to make healthy decisions and express emotions through appropriate communication and behaviors. Services include therapy, group sessions, medication management, life skills development, therapeutic programming, educational support, and recreation. The Lighthouse team works with each young person to create and individualized treatment plan that puts into place interventions that help them attain their goals.
While in residential treatment, youth attend school, have opportunities to get work experience, and build strong relationships with mentors they can trust.