Resources for LGBTQ Youth
Lesbian, Gay, Bisexual, Transgender, and Queer/Questioning (LGBTQ) youth are dramatically over-represented in the homeless youth population.
Lighthouse is working to prevent and end LGBTQ youth homelessness in Hamilton County, Ohio, implementing strategies to make sure every LGBTQ youth has the housing, resources, and connections to thrive.
---
Direct Online and Phone Support Services for LGBTQ Youth
988 lifeline, provides free, confidential support 24/7
The Trevor Project has several direct online resources specifically for LGBTQ youth:

Trevor Lifeline is a crisis intervention and suicide prevention phone service available 24/7 at 1-866-488-7386.
TrevorChat is a confidential online instant messaging with a Trevor Counselor, available 24/7, at trevorproject.org/get-help-now/.
TrevorText is a confidential text messaging with a Trevor Counselor, available 24/7/365, by texting START to 678678.

Q Chat Space is a bully-free online community of LGBTQ teens that can chat with other LGBTQ teens and trained staff from LGBTQ centers around the country.
National Runaway Safeline is a federally designated national communication system for runaway and homeless youth, availalbe 24/7/365, providing access to resources and listening professionals.
Trans Lifeline Hotline is a peer support service run by trans people located all over the US and Candada, for trans and questioning callers.

You can call Trans Lifeline Hotline at 877-565-8860

The LGBT National Help Center offers a talkline and weekly chatrooms for youth, providing confidential peer-support, information, local resources and community.

You can call the LGBT National Youth Talkline at 800-246-7743
You can access the Action& Resource Center at truecolorsunited.org/coronavirus-action-resource-center/ True Colors United has created an online COVID-19 Action & Resource center providing the most up-to-date resources for youth and adults experiencing homelesness. They include resources for folks working in the field, advocates making a difference, and young people looking for help.
Support Resources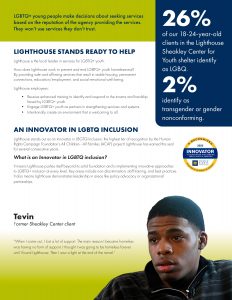 Click here for information about the ways Lighthouse supports and meets the needs of LGBTQ youth.