Volunteer Appreciation Week 2021
We're Grateful for Lighthouse Volunteers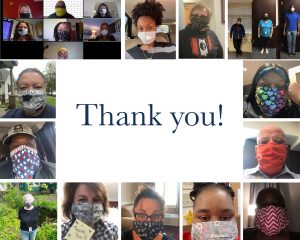 Thank you for creating and donating handmade face masks to Lighthouse during the pandemic. Because of you, our staff as well as the youth and families we serve have access to facial coverings. We had over 1,000 handmade face masks donated in 2020!
In this photo, you see a few members of the Lighthouse team showing off some of your creations.
---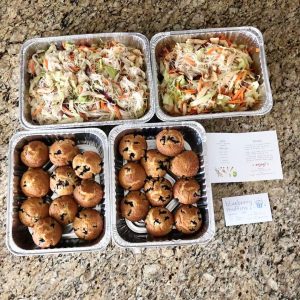 Thank you for donating meals for youth in our shelters! Donating warm meals to youth at Lighthouse was one of the most helpful virtual volunteer activities during the pandemic. Your donated meals remind youth someone cares and help staff tremendously. In 2020, there were over 200 meals donated to Mecum House and the Sheakley Center for Youth. This photo shows a meal donated by Michelle Chen, who provides a meal for the young people at Mecum House monthly.
---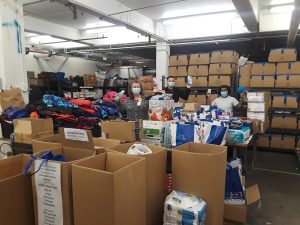 Donations are essential to the care of the youth and families we serve. Thank you for donating personal hygiene products, feminine hygiene products, diapers and wipes, winter coats, clothing, shoes and socks, non-perishable food, and so much more. In 2020, we collected items from more than 250 donors!
This photo shows the tremendous response to a donation drive for personal hygiene products at TriHealth.
---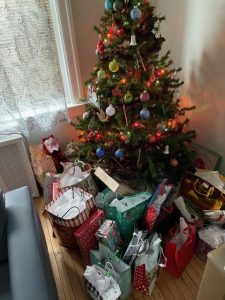 Thank you for your generous support of the annual Happy Holidays donation drive! Despite the challenges of the pandemic, you turned out in force. In 2020, we collected gift cards for clients, instead of gifts, while still offering hats, gloves, and scarves. Because of you, each client received at least a gift card. Over 1,400 young people and families in Lighthouse care enjoyed a happier holiday because of you!
At New Beginnings, our residential treatment home for girls, the young ladies enjoyed many presents under the tree. The lead youth worker said, "One of the girls mentioned this was the best Christmas she ever had. Their excitement was priceless!"
THANK YOU!