Beacon of Light Event

FRIDAY, APRIL 28 – SUNDAY, APRIL 30
No more gala formalwear or assigned seating!
You're invited to the Beacon of Light celebration and Pop-Up Art Show & Sale!
This three-day event features a pop-up art show featuring 20 artists, a VIP cocktail party , and a celebration of this year's two Lighthouse Beacon of Light Humanitarian Award honorees. Dr. Victor Garcia and Barbara Turner are community leaders having an undeniable and positive impact in service to young people and families in our community.
Scroll down to buy your ticket now!
Your support is deeply appreciated and will make a difference for young people and families in need.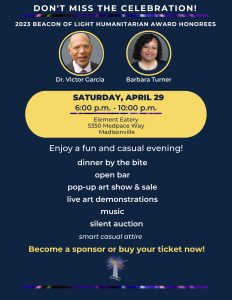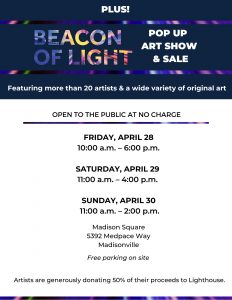 THANK YOU TO OUR SPONSORS!