Lighthouse Receives Inclusive Culture Award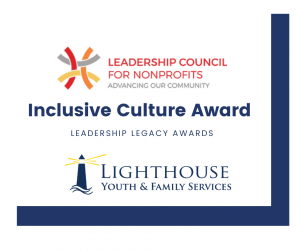 This year, the
Leadership Council for Nonprofits
in Cincinnati established the Leadership Legacy Awards. The awards recognize leaders who have demonstrated great effort to help secure the future of the organizations they serve and support, allowing the nonprofits to continue to build and secure the future of every individual and community they serve.
Lighthouse is being honored with the inaugural Inclusive Culture Award. This award recognizes a nonprofit organization that is welcoming at every level to every individual. The award will be presented during the Securing the Future Conference at Xavier University's Cintas Center on March 5, 2020.
Lighthouse Homeless Youth Services VP Bonita Campbell shares some of our efforts during an interview alongside Leadership Council Executive Director Jenny Berg.