KEYS to a Future Without Youth Homelessness-Third Year for Groundbreaking Program
MAY 2021 — Now in its third year, the work of ending youth homelessness in Hamilton County through the KEYS to a Future Without Youth Homelessness (KEYS) is moving forward, making progress, and adapting to meet young people's needs.
KEYS is the name of the Cincinnati/Hamilton County Youth Homelessness Demonstration Project. Its third year of operation began on March 3, 2021.
The KEYS project team comprises Lighthouse Youth & Family Services, Family Housing Partnership, and Children's Law Center in partnership with Strategies to End Homelessness. The Family Housing Partnership includes Bethany House, Interfaith Hospitality Network of Greater Cincinnati, Salvation Army, and YWCA Greater Cincinnati.
The KEYS program centers on creating a youth-serving system to transform the homeless services for young adults in our community.
The program aims to:
Divert as many young people away from homelessness as possible.
House and serve youth through an innovative housing approach known as Progressive Engagement Housing.
Address the legal barriers to housing young people face.
The KEYS team collaborates with service providers across Hamilton County to connect 18-24-year-olds experiencing homelessness with eligible services as part of meeting these objectives.
Our community is diverse, and so are the needs and goals of the young people KEYS serves. Embedding an equity and inclusion lens and cultural competence into every aspect of the program is essential. Youth of color and LGBTQ young people have much higher homelessness rates than youth who identify as white, cisgender, and heterosexual. And young people who identified as both Black or Brown and LGBTQ had the highest rates of homelessness. The team has incorporated equity and cultural competence into planning and delivering services and recruiting and training staff. Leading with racial and LGBTQ equity is critical to preventing and ending youth homelessness.
The KEYS project team has tackled many challenges over the past three years, always listening to the voices of young people who have experienced homelessness. Their expertise is at the forefront of creating KEYS implementation, policies, and programming.  One thing is sure. Ending youth homelessness begins with prevention!
During the first year of operation, the KEYS team consistently surveyed young people and staff and reviewed quarterly outcomes as part of continuous quality improvement. As a result, both small and substantial changes were made to the program to meet better the needs of the young people served. Launching a pilot program means learning as you go and making adjustments to be more effective. Initial benchmarks were within reach as 2019 ended.
KEYS program goals reflect intended system-level outcomes and data for all homeless youth in Cincinnati/Hamilton County. They include:
Reducing the percentage of youth who become homeless by over 50% (643 to 400 unduplicated youth).
Increasing the percentage of homeless youth exiting into permanent housing from 48% to 80%.
Reducing the average number of days a young person remains homeless from 38 to 21 days.
Reducing the percentage of youth who return to homelessness from 20% to 10%.
In 2020, COVID-19 changed everything. Youth homelessness, however, did not stop, nor did the commitment of the KEYS team to meet the needs of homeless young adults. Despite the new challenges to providing services, there was an overall decrease in the number of young people who became homeless as case managers continued to divert and find housing for young people.
The Youth Advisory Council, a group of young adults who experienced homelessness, also continued to guide the effort. The council developed a diversion screening tool that has proved invaluable. Homeless shelters participating in the KEYS program and the Central Access Point Helpline use the tool to evaluate if family or friends could provide safe and appropriate temporary housing, thereby diverting the young person from a shelter. They also receive supportive services to help them stabilize and secure permanent housing.
KEYS diverted 107 young adults from homelessness in 2020.
The graph shows the number of young people diverted from the 2018 baseline to 2020, a 68% increase in the number of young people diverted from homelessness!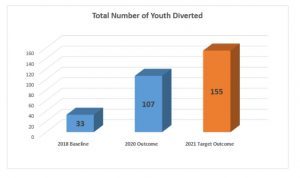 These graphs illustrate the program's impact on the entire local youth-serving system, not only young people served by KEYS.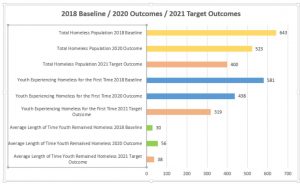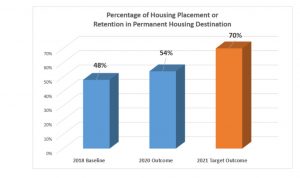 Since the beginning of the KEYS program, Hamilton County has experienced:
24% reduction in unduplicated youth becoming homeless for the first time.
19% decrease in overall youth homelessness.
12% increase in youth exiting homelessness into permanent housing.
It's an honor to be one of the first communities in the country chosen by the Department of Housing and Urban Development to participate in the Youth Homelessness Demonstration Program and develop KEYS. The accomplishments of the past two years are due to collaboration, listening to understand, and willingness to adapt. The team has set ambitious goals moving forward and remains committed to achieving them, ending youth homelessness in our community.
Click here to see the KEYS plan and the Youth Data Dashboard tracking outcome goals.