This Valentine's Day, choose to leave  a legacy of love.
During the past 47 years, thousands of young people on the streets have reached out to Lighthouse Youth Services for help. And Lighthouse is always there. Now Lighthouse is leading the effort to end youth homelessness in our community by 2020. Together we can give our young people who are homeless a way out of despair and give them hope for building a new independent life.
Join the effort at this pivotal moment. It's an opportunity for you to create an undeniable legacy.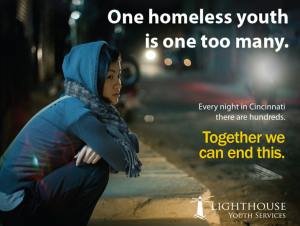 Young adults will leave A Place to Call Home and move into their own homes, with a job and the skills they need to make it on their own…ready to give back to the community that helped them transform their lives.
Construction began in June 2016 on the four-story 65,000 square foot housing and service complex for homeless youth. The building on Iowa Avenue in Walnut Hills will include 28 individual shelter bedrooms, 39 apartments, a resource center, health care facilities, and a street outreach team. Construction is expected to be completed in December 2017. Help build the future for our community's youth. You can guarantee that by 2020, any young person alone and on the streets of Cincinnati in need of shelter will have it.
Put your stamp on the future today.
Leave a legacy of love. Help end youth homelessness in our community by 2020.