A New Home for New Beginnings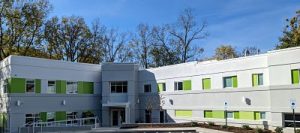 Construction is complete!
This new and larger location for New Beginnings, Lighthouse's residential treatment program for girls, provides a home-like environment that fosters a stronger sense of comfort and trust.
Jenny's just 15 and has already experienced trauma no child should endure. She is only one of the many girls who have suffered abuse and neglect and rely on Lighthouse for the intensive services and support they need to heal and grow.
They are the girls in Lighthouse's New Beginnings residential treatment program. New Beginnings provides the therapeutic and structured living environment and extensive support services the girls need to find their way forward. Throughout treatment, girls receive the help they need to overcome barriers and feel empowered to make positive changes for their futures.
The New Beginnings residential treatment program will move from Pleasant Ridge to Mount Auburn in November 2021.
Thanks to you, more girls now have a chance for a healthy future.
Learn more about the new home for New Beginnings by clicking the links below.