Beacon of Light Event

FRIDAY, APRIL 28 – SUNDAY, APRIL 30
Fabulous experiences and items available now!
AUCTION CLOSES AT 9:30 PM ON SATURDAY, APRIL 29, 2023.
You're invited to the Beacon of Light Celebration and Pop-Up Art Show & Sale!
This three-day event features a pop-up art show featuring 20 artists and a celebration of this year's two Lighthouse Beacon of Light Humanitarian Award honorees on Saturday, April 29. Dr. Victor Garcia and Barbara Turner are community leaders having an undeniable and positive impact in service to young people and families in our community. The celebration features open bar, dinner by the bite, music, silent auction, and live art demonstrations, including glass blowing.
Your support is deeply appreciated and will make a difference for young people and families in need.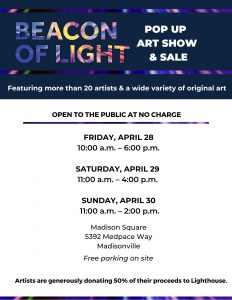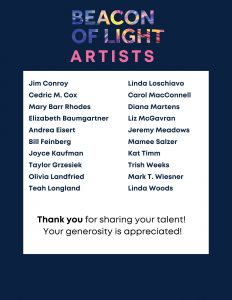 For more information, please contact Special Events Coordinator Nataly Wickham at 513-487-6775 or nwickham@lys.org.
THANK YOU TO OUR SPONSORS!